Sheerstone
Translucent stone panels transformed with backlighting – perfect translucent wall panels or an epic translucent stone wall.
Natural stone, sourced from around the world, polished to perfection and fused with glass – this is Sheerstone. 
Sheerstone comprises real natural stone Natural but not as you know it. Real natural stone but at only 5mm thick and once fused to glass or Perspex transforms onyx, marble or granite into a three dimensional work of art and once backlit the lighting enhances the colour and depth for a show stopping standard. The possibilities are never ending and Sheerstone is available into two versions:
SGL comprising a thin veneer of real natural stone fused to glass for structural and/or external facades
SPL comprising a thin veneer of real natural stone fused to Perspex for interior decorative applications
The natural patterns and hues of real stone, formed over thousands of years, give each Sheerstone translucent stone panel a sense of movement that is truly captivating. Once back-lit, Sheerstone literally comes to life in dramatic 3D effect.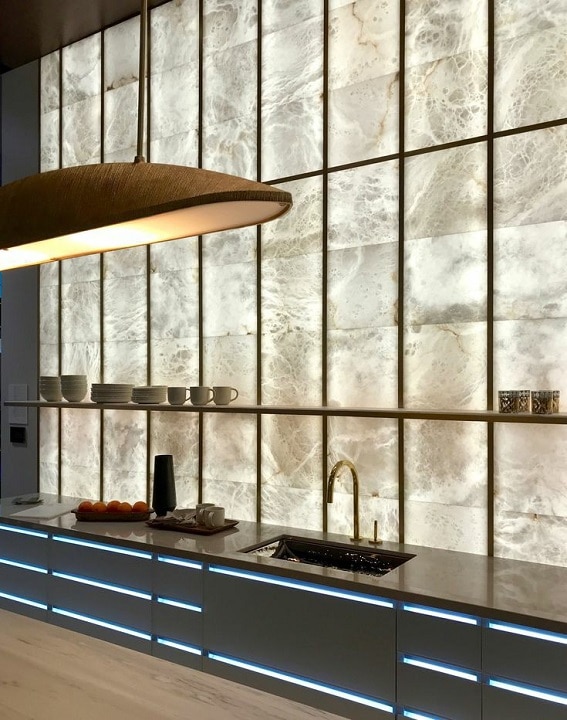 Sheerstone is our original translucent stone panel and features in many awe-inspiring designs and iconic interiors around the world. This unique product is available in a wide choice of natural stones in an array of exquisite colours.  
Each fragile stone veneer is just a few millimetres thick with a glass layer applied to suit the demands of the final use environment. Sheerstone illuminated panels are cut to size and arrive ready to install. 
It's perfect for walls and facades as well as high use applications such as bar tops or fronts and tables.